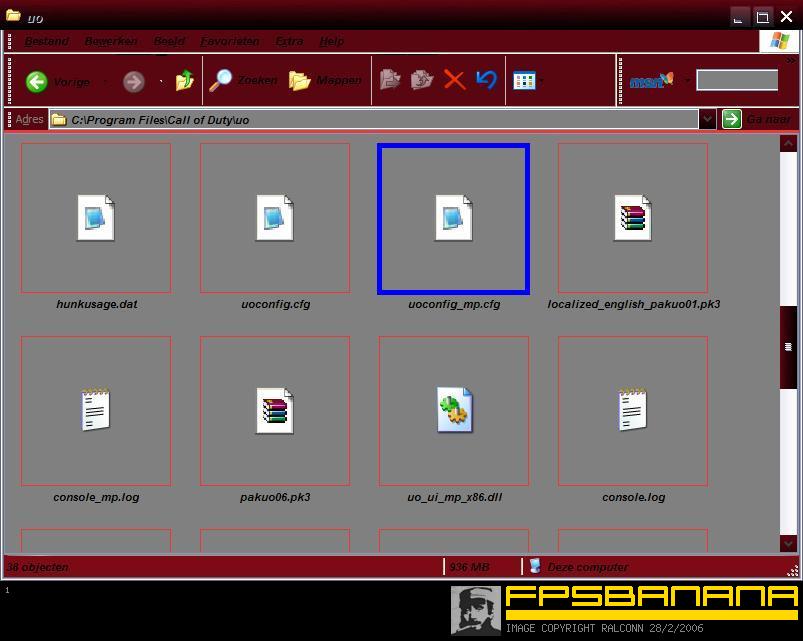 Hey all,
Welcome to this tutorial how to put all your binds in 1 time from your Call of Duty (UO) into your Cod2 . :P
1st of all: If anything goes wrong, it won't be my fault and I am not responsible for the consequences i you mess up your cod and/or cod2 yourself.
Now ok, let's get started.
This is basically really easy to do, unless your a moron...
Our first step is to look up both multiplayer config files. Usually the config file for Call of Duty is findable in the map C:\Program Files\uo\uoconfig_mp.cfg like shown on the picture (screen 1). If you putted ur Call of Duty somewhere else, just go into your Cod uo folder and look the uoconfig_mp.cfg up.
(see screenshot 1)
Ok, after you find that file, we are going to look up the cod2 config file witch is based in the following folder: C:\Program Files\Activision\Call of Duty 2\main\players\YOURNAME\config_mp.cfg (with YOURNAME i mean the name of the profile you made). As you can see, the name is different to the UO config file (as shown on Screen 2).
Screen 2:
(see screenshot 2)
What we are going to do know is we are going to rename the UO file. 1st of all, copy and paste it (COPY, not CUT!!!!) to your desktop for example. if you have done that, right click on it -> rename. Rename it to Config_mp.cfg. As you can see now, 2 different files have the same name, the one on your desktop and the one in your cod2 folder.
Next and last stap, cut (or copy, what ever you want) the Config_mp.cfg file that is on your desktop into your Cod2 profile folder. It will give a message if you want to overwrite the other file (Screen 3). Click yes (the screenie i posted is in Dutch languages, but just click yes, for me it is Ja).
Screen:
(see screenshot 3)
Now, all your binds have been copied into cod2. Enjoy it! :wink:
If you have any questions, just pm me or e-mail me, or talk to me on xfire, or whatever... :D
P.S. Your controls might get messed up a bit, like the movement controls, just check 'm after u did this in the Cod2 menu.
Regards,
Joshua Slavenburg